---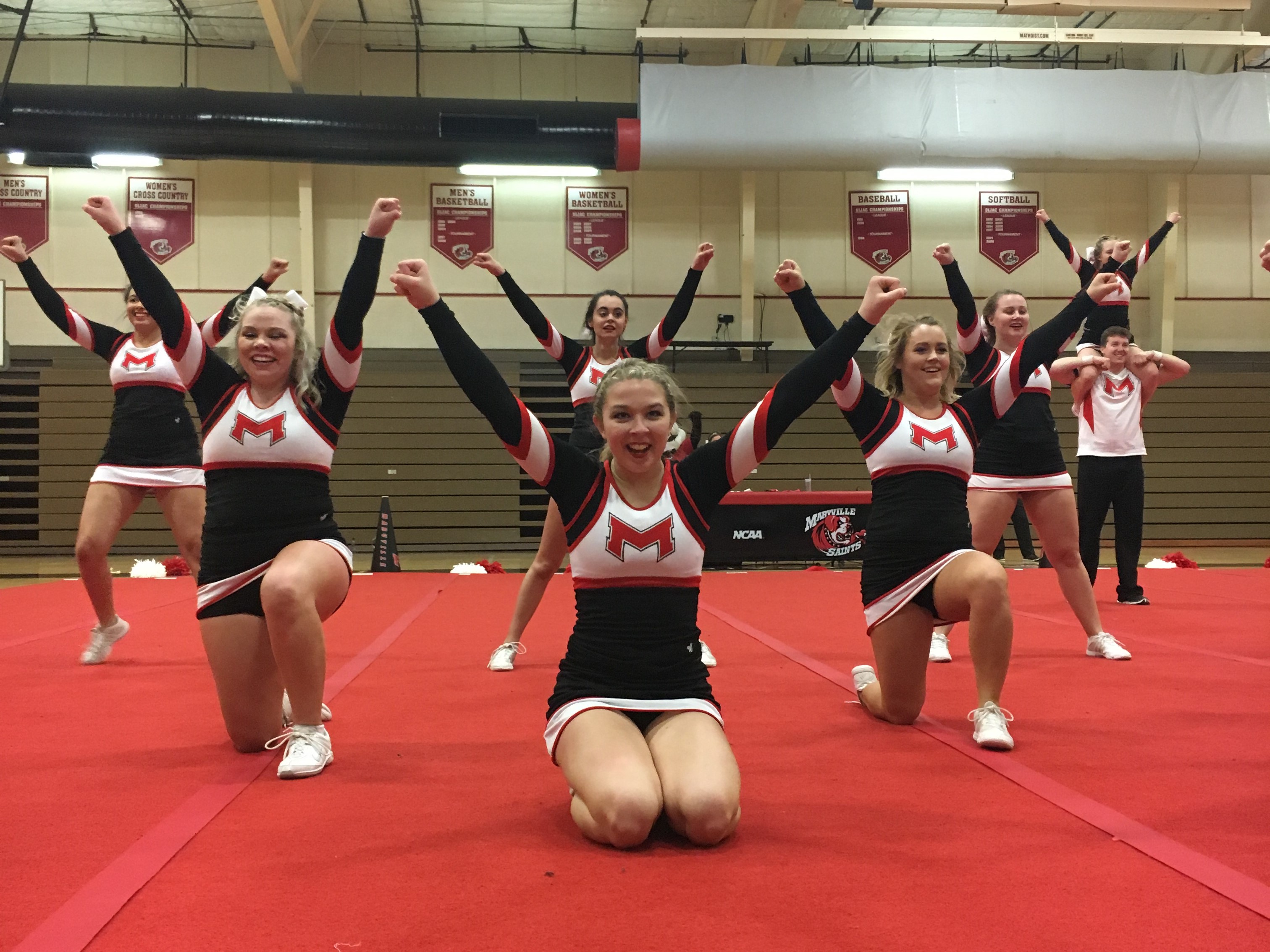 The Maryville Spirit Program, which is comprised of cheer, dance and mascots, work hard all year long to support athletics and our institution as a whole, but once a year they take some time off for their own craft. During the second week of April each year, cheerleading and dance teams from around the nation flock to Daytona Beach, Florida, to compete in the National Cheerleading and Dance Association's college competition. This year our teams performed exceptionally well and placed higher than ever.
Just Dance
There are many styles of dance, and the National Dance Association (NDA) offers categories for competition in many of them. This year our dance team competed in the jazz division, as well as team.
The team category allows dance teams to showcase three types of dance, including hip hop, jazz and pom, into a short two-minute routine. This is only the second year the Maryville dance team has appeared in this category and they took third place, which is the new record for the program.
For the dance team, competing in the jazz category is tradition and they have been doing so since the program started competing nationally. This year, the team made it to finals and placed ninth.
"Considering it was my first year ever coaching, the team exceeded any expectations that I had. I was going into the trip that making finals would be amazing, but placing well in finals blew my mind," said Assistant Dance Coach Taylor Blumenthal. "Seeing the team and the progress they've made has been the best part of the journey. I'd like to think I had a little to do with their progress, but most of it came from their own outside work."
Cheer on the cheerleaders
The National Cheerleading Association (NCA) has several categories for competition as well. Our team competes in the small coed Division II category.
Every year, the team makes vast strides into pushing the program to do bigger and better things. This year, the cheer team made program history by making finals and placing thirteenth.
The finals for competition are held outside in the bandshell, or the giant outdoor stage. Ashley Stevens said, "The adrenaline before you run out on stage is unreal and performing on the outdoor stage was a whole different world."
"First of all, thank you to Dr. Lombardi, but also Marcus Manning and everyone over in Athletics…and all my counterparts in Student Life. We, as an institution, have bought into one team one family, and through that the support system we have here for our students at Maryville, [it] is amazing and humbling to me."

-Peter Michel
All photos courtesy of Jordan Coker.