---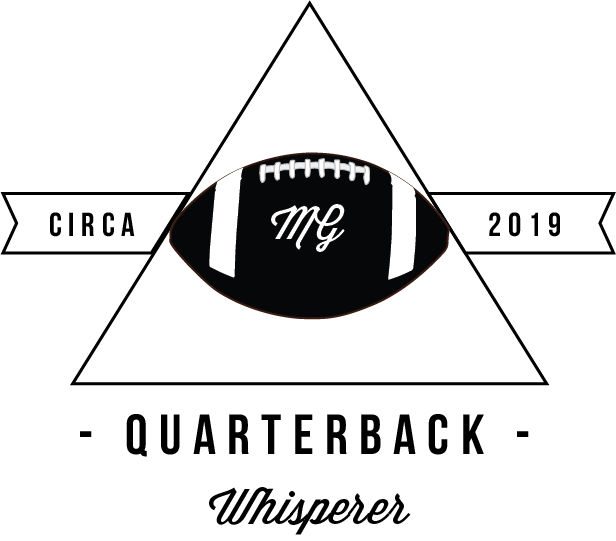 Who are the Best 32 Quarterbacks Available in the NFL Right Now?
In a league where massive contracts are thrown at Quarterbacks, the rankings among quarterbacks begin to get skewed. If contracts were not considered, who would be the top 32 quarterbacks available? This article is based on the performances of the 2019-2020 Season, through week 11.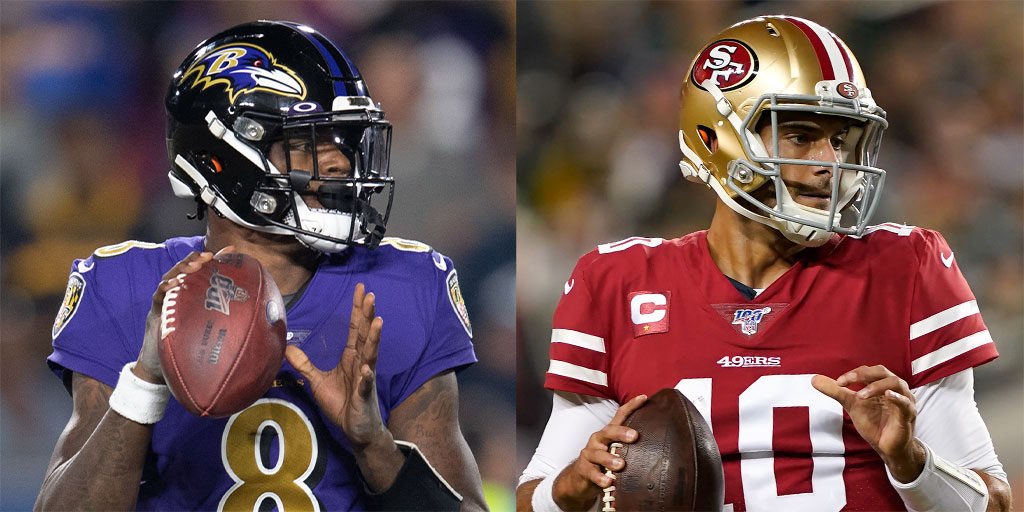 32. Gardner Minshew
Gardner Minshew is a quarterback that not many people can place. In the games that Minshew started this season, Minshew went 4-4 with a 92.8 Passer Rating. Though Minshew had a .500 record, he showed star potential in his nine games played through week 11, as well as a few too many Rookie Mistakes. I think that Minshew showed potential to be a Starting quarterback in the NFL, and that is why he cracked into my top 32.
31. Mitchell Trubisky
Mitchell Trubisky went 11-3 in 2018 and showed the signs that he significantly improved from his 2017 season, but in 2019, Trubisky has seemed to regressed. Trubisky will always be viewed as a bust, being drafted ahead of both Patrick Mahomes and Deshaun Watson. Trubisky is hindered by his environment due to being in Chicago and having Matt Nagy's Offense taking a significant step backward. Trubisky has shown flashes of athleticism and ability to make plays off of the play-action. However, the play-calling has slowed down his growth, presenting doubts that he is a franchise quarterback.
30. Marcus Mariota
Marcus Mariota entered the NFL coming off of a historic collegiate career. Since then, Mariota has not shown much growth, even being benched for Ryan Tannehill in the 2019 Season. I do not think that Mariota's career is over, but his time with the Titans is coming to an end. Mariota is in desperate need of a new situation, as he has been the status-quo of the NFL.
29. Andy Dalton
Speaking of the status quo – Andy Dalton has been the baseline of the NFL whether your team needs to bring in a new quarterback or not, as his career in Cincinnati has been subpar at best. Dalton was benched this season following an 0-8 start.
28. Daniel Jones
Daniel Jones came into the league with a lot of pressure, due to everyone penciling him in as a bust before he could even leave his draft party. Although Jones has surpassed most people's expectations, Jones still has a long way to go if he wants to be the franchise quarterback of the New York Giants. He turns the ball over too much but has shown flashes, including a game-winning drive against the Buccaneers. 
27. Sam Darnold
Sam Darnold continues the trend of young quarterbacks attempting to make a name for themselves. Darnold, now in his second season, has been inconsistent. With a record of 3-4, Darnold has looked great in his wins, and poor in his losses. Under the microscope that is New York media, Darnold has to find more consistent production if he wants to be the face of the New York Jets.
26. Ryan Tannehill
Since Replacing Marcus Mariota, Ryan Tannehill has been impressive. Tannehill has been winning but has not been game-breaking. Tannehill kicks off the next tier of quarterbacks, and if his play can continue throughout the rest of the season, he will earn a starting quarterback opportunity somewhere.
25. Teddy Bridgewater
Following an injury to Drew Brees, Teddy Bridgewater was called on to keep New Orleans' playoff hopes alive. Although the Saints might have the best roster in the NFL, Teddy came in and went 5-0. Bridgewater showed flashes of why he was a first-round selection year back, but following his gruesome knee injury, many viewed the career of Bridgewater to be over. He is one of the quarterbacks whom all football fans hoped would perform well due to his injury taking his prime seasons away from him. Then, of course, he outperformed anyone's expectations.
24. Jameis Winston
Coming out of the same draft class as Mariota, there were debates about which Heisman winner would be more successful in the NFL. Winston was selected over Mariota, and as of Week 11 of 2019, it seems that was the correct pick. Although Winston is better than Mariota, he still finds him in the bottom third of NFL Starting Quarterbacks. Winston shows flashes of being a top 15 quarterback, but as you are ready to move him up from this placement, he throws a back foot interception on first down. Until Winston can cut out those minor mistakes, he will reside at quarterback number 24.
23. Phillip Rivers
Coming into the season, Phillip Rivers would have easily been a Top 15 quarterback. Rivers was once viewed as an ageless wonder, but it seems that Rivers is finally showing his age. The 37 year old Gun Slinger still can read a defense and keep his team close, but he now lacks the arm strength to make the big time clutch throws that he has made a living out of throughout the past 15 seasons.
22. Jared Goff
Coming off of a Super Bowl loss, Jared Goff and the Rams have struggled with consistency throughout the 2019 Season. Goff just received a massive contract but is still playing like a quarterback on his Rookie Deal. Goff has shown flashes of being a great quarterback, but flashes do not mean anything when you have the inconsistencies that the Rams have been having despite their top tier roster.
21. Nick Foles
Nick Foles is a former Super Bowl MVP, has had multiple playoff runs, but since signing his new contract with the Jaguars, Foles has only played just over four quarters due to his broken collarbone in week one. It is too early to jump the gun, but Foles has not played much better than his backup Gardner Minshew. That being said, Foles was paid like a top 10 quarterback in the offseason, making it hard to write him off after five quarters.
20. Cam Newton
Cam Newton has been struck with the injury bug over the past couple of seasons. The former MVP has been inconsistent over the past three seasons due to injuries to his shoulder, back and foot including two surgeries to his throwing shoulder. When Newton is 100% healthy, there hasn't been a player in NFL History that can do what he can do. If he can get healthy, he will be a top 10 quarterback in the NFL. However, I wouldn't be surprised if the Panthers move on from Newton in the offseason. 
19. Josh Allen
With maybe the strongest arm in the NFL, Josh Allen has the upside to be the next Cam Newton. Allen has shown the ability to run the ball at an efficient rate, as well as deliver one of the best deep balls in the entire league. Allen is one of the few quarterbacks that have untapped potential, due to his strong arm and running ability. He has all the intangibles that you look for in a quarterback, and if he can figure out the little things, he will be a fixture in the NFL for years to come.
18. Baker Mayfield
Coming off of a near-elite rookie season, Baker Mayfield has come back down to earth. Mayfield's "sophomore slump" has hit harder than anyone's. Mayfield went from the darling of the NFL to people questioning him as a franchise quarterback. I am a believer in Mayfield; all he needs is a solid play-caller and improvements on the offensive line. As of right now, Mayfield is ranked as the 18th best quarterback in the NFL in my eyes, but has a lot of growth ahead of him once Freddy Kitchens is fired as the Cleveland Head Coach.
17. Ben Roethlisberger
Ben Roethlisberger is a three-time Super Bowl Champion and has had the same longevity as Phillip Rivers. Although Roethlisberger is out this season with an elbow injury, if he doesn't hang up the cleats, I believe in his ability to bounce back better than someone like Rivers. I think that due to the postseason success that Rothlesberger has shown, he still deserves to be a top 20 quarterback. It will be a strange sight to see when Rothlesberger calls it quits on his career. 
16. Kirk Cousins
Kirk Cousins has taken the reigns as the premier game manager. He makes a living off of having a good defense and running game, allowing him to control the clock. I think that in theory, this makes Cousins what I look for in a quarterback, but he lacks the star power that can win your team a football game.
15. Jacoby Brissett
In a similar manner to Kirk Cousins, Brissett is a bonafide game manager that gets the edge over Cousins due to the circumstances that he is thriving in. Brissett became the starting quarterback of the Colts days before the season began due to their elite quarterback retiring out of nowhere. Andrew Luck left the Colts in a situation that resulted in asking backup Quarterback Brissett to takeover this dark horse Super Bowl Contending Roster, and the Colts have hardly missed a beat. I would trust Brissett in a two-minute situation over Cousins, giving him the edge to crack into my Top 15.
14. Derek Carr
Derek Carr has had an up and down career. In 2016, Carr was my favorite to win the MVP award before suffering a broken leg that cut his season short. Since then, Carr appeared to struggle with injuries until Coach John Gruden revitalized Carr's career. Gruden has sparked Carr, making him look like he is worth his massive contract. This spark has jumped Carr to my 14th best quarterback.
13. Matt Ryan
Matt Ryan is a former MVP and was a play away from clinching a Super Bowl Victory in the same season. Since then, Ryan and the Falcons have been in a "Super Bowl hangover" and Ryan has fallen out of the Top 10. Matt Ryan had a very shaky start to the 2019 Season, but since their bye week, Ryan has bounced back and the Falcons are beginning to look like the Falcons of old.
12. Matt Stafford
Throughout Matt Stafford's career, he has taken on the personality of a Gun Slinger. Stafford has led the league in passing over the past couple of seasons and even was the fastest quarterback to 40,000 passing yards in NFL History. Early this season, Stafford cut out the Gun Slinger Approach, rounding out his football game and was even in the talks of MVP. This spiraled when the injury bug depleted the secondary and the backfield of the Lions, causing Stafford to once again carry the team on his back. This leads to an injury that has put a halt in Stafford's season, but his early play was enough to make it to my 12th best quarterback.
11. Dak Prescott
In 2019, Dak Prescott is having a career year. With the best supporting cast in the NFL, Prescott was under a microscope to see if he is worth top 10 money, and in my opinion, he is. He has played like the best quarterback in football at times this season, but he also has one of the best defenses, running backs, wide receivers, and offensive lines in football. I think that if you were to take any of the next 10 quarterbacks and place them in Dallas, they would shine just as bright as Dak Prescott.
10. Kyler Murray
Kyler Murray is the highest rated Rookie on my list, and it is much deserved. Whether it be Kyler himself or his young offensive-minded coach, Kyler has taken the Cardinals from the worst team in football to an average one within a year. After a tough season with Josh Rosen, the Arizona Cardinals drafted Kyler Murray with the first overall selection in the 2019 Draft. Murray is one of the best athletes in the world, being a successful NFL quarterback, ran a 4.3 40-yard dash, as well as being a top 10 selection in the MLB Draft. Murray has untapped potential with elite arm strength and ability to extend the play, and the former Heisman is on track to be a fixture in the NFL for years to come.
9. Jimmy Garoppolo
In an NFL where the most important stat is a win, Garoppolo is the golden child when it comes to tallying wins for his team. Drafted by the New England Patriots to be the successor of Tom Brady, Garoppolo shined in his time as a member of the Patriots and continued his success following a trade that sent him to the Bay Area. With a quarterback record of 16-3, Garoppolo continues to check all of the boxes for what I look for in a starting quarterback. Garoppolo's only downside is the injuries that have held him back in the past. If Garoppolo can remain healthy, he is my favorite to lead his team to Postseason Success this Season.
8. Carson Wentz
Carson Wentz is another quarterback that is only held back due to his history of injuries. Wentz was a winner back in his collegiate career and even translated his success to the NFL before having his MVP Season cut short with a Torn ACL. Since the injury, Wentz and the Eagles have not been able to shake the injury bug, making for some fans, question if Wentz really is a top 10 quarterback. In my eyes, Wentz is still a top 10 Quarterback and even cracks my top 8. I think that Wentz will bounce back to his former MVP self, and show why he was so successful at North Dakota State. Wentz and the Eagles are set to bounce back in the latter part of this season, and all will be on the Shoulders of Carson Wentz.
7. Drew Brees
Drew Brees is the most accurate quarterback of all-time. He has had individual success along with a Super Bowl Victory over his long career. Brees has proven season after season that he is a top tier quarterback in the NFL. That being said, Brees is 40 years old, and with a thumb injury earlier this season, it is safe to assume that he is nearing the end of his career. All in all, the career of Drew Brees has been amazing, and Brees still comes in as a top 7 quarterback in the NFL.
6. Tom Brady
In a similar manner to Brees, Tom Brady has had a long and successful career in the NFL. The difference between Brady and Brees is the difference in postseason success between the two. Where Brees has won one Super Bowl, Brady has won six of them. It is hard to argue that Brady is the greatest quarterback of all-time, but in terms of the Current NFL, I consider Brady just outside of the top five. Brady has proven that he is a Postseason clutch performer, but in the regular season, Brady has been out-dueled by Lamar Jackson and has shown that his lack of mobility can hurt the Patriots against the best of pass rushes. 
5. Lamar Jackson
Lamar Jackson is the hardest quarterback to place out of the 32, but it is hard to argue that Jackson is not in the top five. Jackson is revolutionizing the quarterback position and is the best runner in the NFL at any position. I think that Jackson is the front-runner for the MVP this season, but in terms of where he ranks in the list of quarterbacks, I think he lacks enough to have the next four guys ahead of him. Jackson has won in both college and the pros, but in tight passing windows, Jackson has not proved to be elite. I think that if I were to pick a quarterback to be the best in the NFL in two seasons, it would be hard to deny Jackson considering the improvement from last season to this season, I just don't think that Lamar is there quite yet.
4. Deshaun Watson
Another quarterback who has the ability to run, but Watson is not on the same level as Jackson in the running department. However, Watson is a lot better of a passer than Jackson. Watson was a winner and college, and I think that Watson has all of the intangibles to be a top three quarterbacks in the NFL. Where Watson is lacking is his ability to stay healthy. In what is becoming a common trend in this list, I think that due to Watson's track record of knee injuries it would be hard to put him ahead of anyone else on this list.
3. Patrick Mahomes
Last Year's MVP would have topped my list coming into this season, but due to injuries and inconsistencies, Mahomes has slipped to number three. I believe that Mahomes is still an elite talent, and was one play away from a Super Bowl a season ago, but coming into this season, Mahomes has been making mistakes left and right. Mahomes has the most dropped interceptions in the NFL, and the Chiefs are too good to be a .500 football team. Mahomes has the most talent at the Quarterback position since Aaron Rodgers, but until he can prove that last season wasn't a fluke, I can't place him above either Rodgers or Wilson.
2. Aaron Rodgers
The difference between Patrick Mahomes and Aaron Rodgers is slim to none. Rodgers gets the edge in my eyes due to his long term success and his ability to play through in injury. Rodgers played last season with a broken leg and a torn knee and was as efficient as ever. Mahomes has only been a starter for two seasons and has already missed out half of the 2019 season. Rodgers is viewed as the most talented quarterback of all time, and with a Super Bowl win under his belt, he will never be questioned the way that Mahomes is right now. Rodgers could be considered the MVP every season due to his success, and I think that in a similar manner to LeBron James, Rodgers is cursed with talent and consistency that allow for him to lose on MVP's that he could still be winning.
1. Russell Wilson
Wrapping up my list is Russell Wilson. Wilson checks all of the boxes in what I look for in a franchise quarterback, and he does it without that much talent around him. Wilson is winner in the pros, does it behind a turnstile of an offensive line, and makes superstar wide receivers out of mid-round picks. Wilson extends plays with the very best, has a Super Bowl to his name, and hardly ever turns the ball over. Wilson is the best quarterback in the NFL and is the man I would want quarterbacking my team when it is all said and done.