---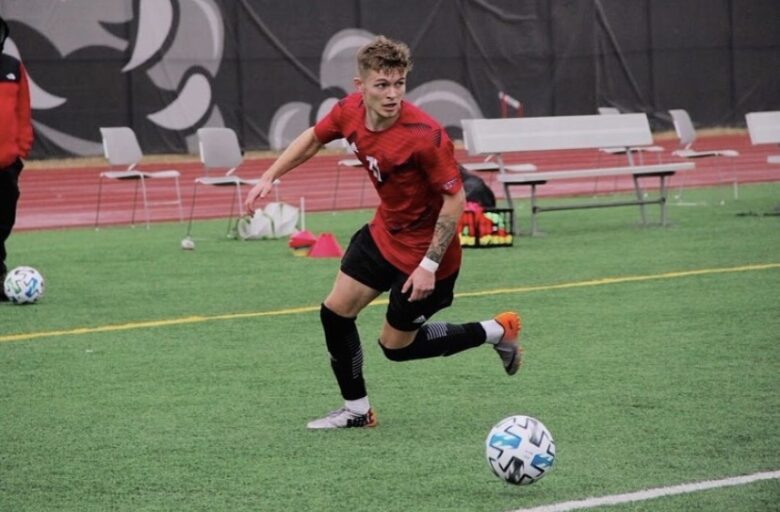 Mirza Hasecic, a Saints soccer star, has had a fantastic season last year at Maryville University. Hasecic was named to the United Soccer Coaches' first team for the 2021 season at the end of the season, one of many accolades the senior midfielder has earned during his 4 years at Maryville. The senior midfielder from Grindavik, Iceland, added to his already stellar season by being named to the NCAA Division II Conference Commissioners Association All-Midwest first team, as well as the College Sports Information Directors of America Academic All-District team and the Great Lakes Valley Conference first team.
But, for Hasecic, soccer is more than simply a game and a way to get recognition.
Despite being one of the Saints most valuable player, Hasecic believes there is more to soccer than receiving awards.
In an interview, Mirza stated, "My favorite aspect of playing soccer is the opportunities it brings, not to mention the health benefits, friendship and, most important of all, the passion and love of the game. To me, it is more than just a sport, it's a way of life. Hasecic's passion for soccer dates back to his childhood. It's been a part of his life since he was a child, as his dad introduced him to the sport.
"I used to watch my dad play when I was younger, and he is the reason why I love this sport" Hasecic remarked. "Throughout the years, he has also been my personal coach. He gives me a lot of advice after every game". Hasecic stated that he has never attempted to imitate other players. "To me it was more of finding me own playing style, and to become the best possible player I could be."
"Setting goals for yourself is critical," he says. "It wasn't until my sophomore year, I discovered how crucial it is to set goals for yourself. This is a good way for you to perform within your standards. And, despite the difficulties that come with playing soccer, these goals typically lead to good results."
Hasecic further explains how important it is to be confident and to believe in yourself. "It is critical to believe in your talent regardless of what happens." Soccer is both a physical and a mental sport. Football, in general, is a rough sport, and it can certainly knock you down." Hasecic mentions how setbacks are a big part of the game, and how injuries can easily destroy someone's career. Those who manage to bounce back from injuries tend to be way stronger mentally and physically moving forward. Hasecic suffered an ACL injury his junior year and explains how that process has made him a stronger person. "These are the setbacks that really test you and your mental strength. "An injury like this can easily put you out for a year, and it was certainly not easy coming back from such an extreme injury."