---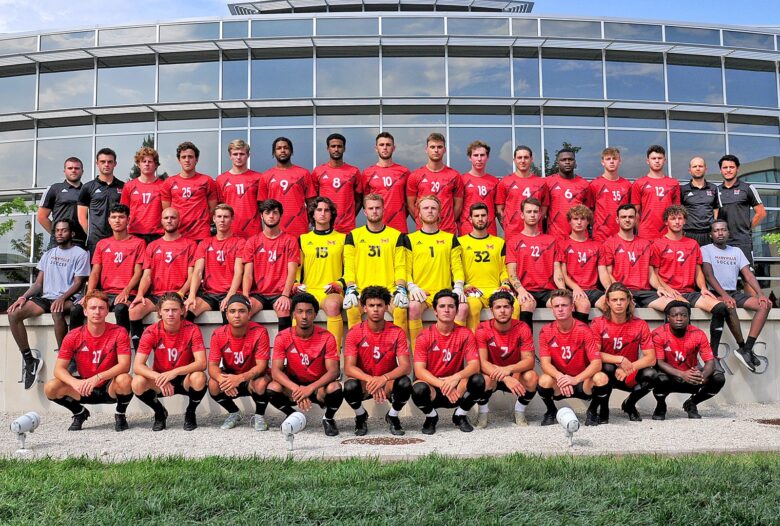 It's been a busy spring for the Maryville Men's Soccer team this spring as they are heading into the last two weeks of their spring season. The Saints have played six games so far, with an unofficial record of 2-3-1 facing a bunch of local teams around the St.Louis area. "It has been an exciting couple of weeks for us so far. Our team has certainly come a long way since the beginning of the year, and it has been a good experience for us facing teams like St.Louis City FC, SIUE, and EIU." Coach Korn stated in an interview. The Saints are playing Central Methodist University in the upcoming week, which will be the last spring season game before the boys go home for summer.
Coach Korn further expressed his excitement regarding the spring season stating that "this time of the year is an excellent time for us to get better and further develop things we might don't have time for in the fall. In the spring season, we get to chance to build on our success from last year to best prepare us for the upcoming season. This is also a good time for us to build our fitness and focus more on individual performance both technically on the field, and physically in the gym."
The Saints have already started to prepare for the fall season, and have already brought in three players to strengthen their squad. These three players have been introduced in my previous articles; Connor Jokerst, Albert Escuin, and Joshua Schmitt. In addition to this year's newcomers, the Saints are still looking to bring in a couple of players over the summer. It is still unknown how many, but it is likely that two more players are getting signed within the next couple of weeks.
Since spring break, two big announcements have been made from Lindenwood University and the University Of Southern Indiana stating that they will leave the conference, as they are going D1. How this is going to impact the GLVC conference and the Saint's fall season is still unclear. That being said, Maryville University, just announced the construction of a new sporting facility is underway. This is exciting news for the whole community as this will be the new home of Maryville's basketball, volleyball, wrestling, and Soccer team. The project also includes a five-story residential hall that will accommodate 400 students over 6,000 square feet of retail space that will be available to the public. The majority of the 1,300 parking spots required for the project will be contained within a parking garage. The property would also include outdoor plazas, walking pathways, and bike routes for students and the community.