---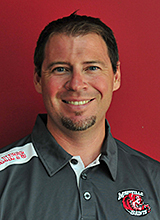 Pat Evers is the new head coach for the Maryville Baseball team. This is his first season coaching the Saints after leaving Jefferson College in Hillsboro, MO, where he coached the Vikings since 2014.

Evers coached 61 NCAA student-athletes and led 20 players in the last four seasons to professional contracts or the MLB Draft from the university in Hillsboro, MO. Additionally, he coached at his former university, the University of Central Missouri, for two seasons, where he graduated with a degree in exercise science. He has also served as a pitching coach with the Duluth Huskies and the Quincy Gems and as a head coach for the St. Charles Mules.

Senior Cole Bornhop was on the team at Jefferson College when Evers coached the Vikings and now plays for the Saints. "Having played for Evers in the past, he brings a lot to the table in terms of really understanding and relating to his players as well as bringing a winning culture around the team," Bornhop shares. He believes Evers is, "making this a very competitive, 'never quit' team."

The season started in Jackson, TN. Feb. 9, 2019 and ends in Evansville, IN. May 4, 2019. Their current record is 2-9. Their home record is 1-5 and their away record is 1-4. They hope to lead a strong comeback this season, and are also hoping to add a field house to their Weber Field facility in the upcoming years.  

The team supports a non profit organization called "Team Impact" that pairs local children that have serious and chronic diseases with collegiate teams. "We are paired up with a kid named Alec who is 13. He was diagnosed with cancer in May of 2015 and we are really close with him. He comes to our games and we have events for him to raise money," shares Issac Parks, right handed pitcher for the Maryville Saints. Parks is originally from Boulder, Colorado but has found his second home here in Missouri.

Parks' favorite aspect of the season is how, "It's kind of nice grinding with 40 other guys who are all on the same page. We all have one common goal, to go out there and try to do the best that we can." He believes the "be the best you" mindset is what truly drives the team to success.

The Saints will play the University of Indianapolis this upcoming weekend. They have two games Saturday March 9, one at 12 p.m. and one at 3 p.m. They also have a game Sunday March 10 at 12 p.m. All three games will be played on Maryville University's Weber Field.

To keep up with the Saints, follow them on Twitter or view their schedule online.