---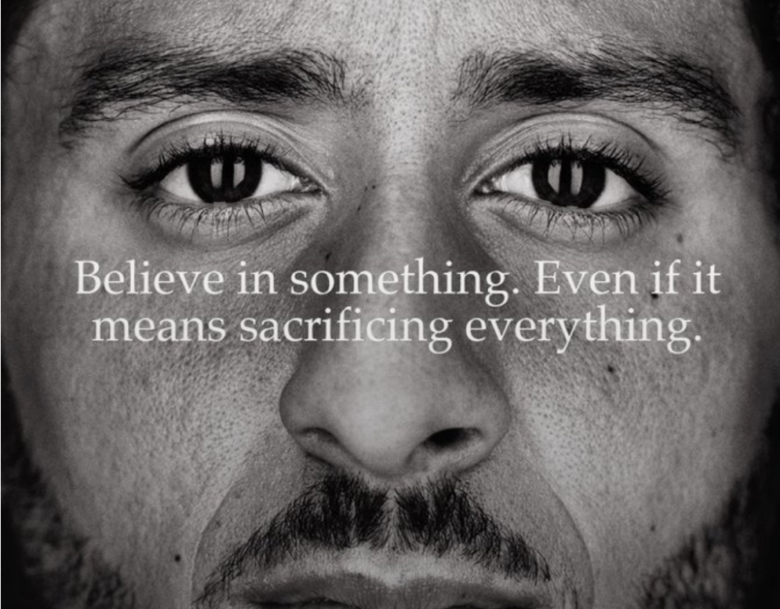 Sept. 3, Nike debuted their new "Just Do It" campaign  starring the former San Francisco 49ers quarterback, Colin Kaepernick. Last year, Kaepernick was in the headlines for protesting during the NFL national anthem to fight against racial inequality and police brutality.  
Two weeks after a controversial campaign, there was a significant increase (31%) in online sales over the Labor Day holiday. However, during the initial release of the campaign, there was a trend of social media users that claimed to have burned their Nike apparel and shoes because of Nike's support for Kaepernick. 
For this article, Pawprint would like to remain neutral but wanted to give students an opportunity to express their feelings concerning the campaign. This topic may be sensitive to some and want to warn our readers that there may be triggers in these arguments. 
Pawprint conducted a poll via Twitter for two days (Sept. 14 – Sept. 16, 2018) that asked the question, "Do you support Nike's decision to have Colin Kaepernick as their spokesperson?" Voters could either select Yes – I support Nike or No – I don't support Nike.  
The results were 87% Yes – I support Nike and 13% No – I don't support Nike.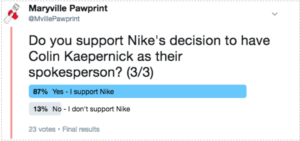 How do you feel about Nike's decision to have Colin Kaepernick as their spokesperson? 
I'm 110% here for it. Since Kaepernick took that first knee in 2016, he has been the subject of criticism, and blatant racism. People have made a mockery out of him, you know. The NFL blackballed him. To see Nike take this story and completely spin it to support Kaepernick is beyond words. – Nya Dorsey, Junior Communications major 
I feel like it was a great way for Nike to do something for Kaepernick, who gave his whole career to try to bring about equality for African Americans. I believe the purpose of kneeling was to bring attention to prison reform. In choosing Kaepernick, it helped empower him which probably trickled down to empower everyone else. It also helped Nike show which side it's on. The players over the league, and thanks to Trump's ludicrous tweets, the people over the government. Conversely, it can be seen as yet another big company trying to make money off the actions of a heroic person. Notice, the ad didn't validate the cause, it was just about standing up for what you believe in. And the only real way of making the change, outside of bloody revolutions, is by getting everyone to back the cause. – Tommy Henry, Senior Studio Art: Painting major 
It's a particular position Nike put themselves in because I question their intentions. I support the cause and applaud them for taking a stand but, does that stand end after the profits from the cause? Or is the profit invested to push the cause further? Ultimately, financially it was a good move, and they supported a worthy cause, but I want to see them do more. – Christina Isaiah, Senior Interactive Design major 
Should companies incorporate social justice causes to their marketing campaigns? 
"Yes; I believe companies should integrate aspects of social justices causes into campaigns. When looking to drive substantial revenue and enhance brand awareness, you must demonstrate your commitment to the interests of those (external customers-buyers and internal customers-employees) that sustain the business. This can lead to creating a competitive advantage, which further solidifies your position in the market: as one of a kind. I agree with the stance Nike took. If I had to change anything, it would be to incorporate what brought Kaepernick to the limelight: him kneeling during the anthem." – Rapulu Okolo, Senior Sports Business Management major 
"I believe companies should not incorporate social justice causes to their marketing campaigns. In theory, a company would promote social justice to their target demographic which would inspire change in society. This is great in theory, but in practice, the idea never works in an intended way. The marketing campaign will divide the consumers into those that support the social justice and those that are against it. Also while the idea to promote social justice is great, companies will take actions that they believe will benefit them by making more profit. Companies should not use social justice causes to make a profit." – Luis Castillo, Junior Mathematics major 
Is it an athlete's responsibility to take stances on social justice issues? 
I don't necessarily believe that it is an athlete's sole responsibility to be the face of social justice issues. I feel as though athletes who have such a huge platform and have huge followings should be well-informed and caught up on the issues that they discuss. However, I do think that these athletes should use their status and influence to call out issues that need to be addressed. Since sports are so popular, I think that it is a great outlet to bring certain topics to light. – Courtney Pope, Junior Nursing major 
I believe that everyone has the responsibility to take stances on social justice issues. As an athlete, you have a bigger platform that can create more attention tp the issues at hand. We all live in this world and should care enough about the mistreatment of others. – Greg Moore, Senior Accounting major 
Final Verdict 
Students, faculty, and staff of Maryville University:  
As cases and headlines of social justice begin to show up in various areas of popular culture, sports, and social media, it's imperative that individuals can come together and respectfully communicate thoughts and opinions that reflect our experiences. 
It's okay to talk with peers about difficult conversations and have thought-provoking conversations. It's not okay to ignore the conversations.