---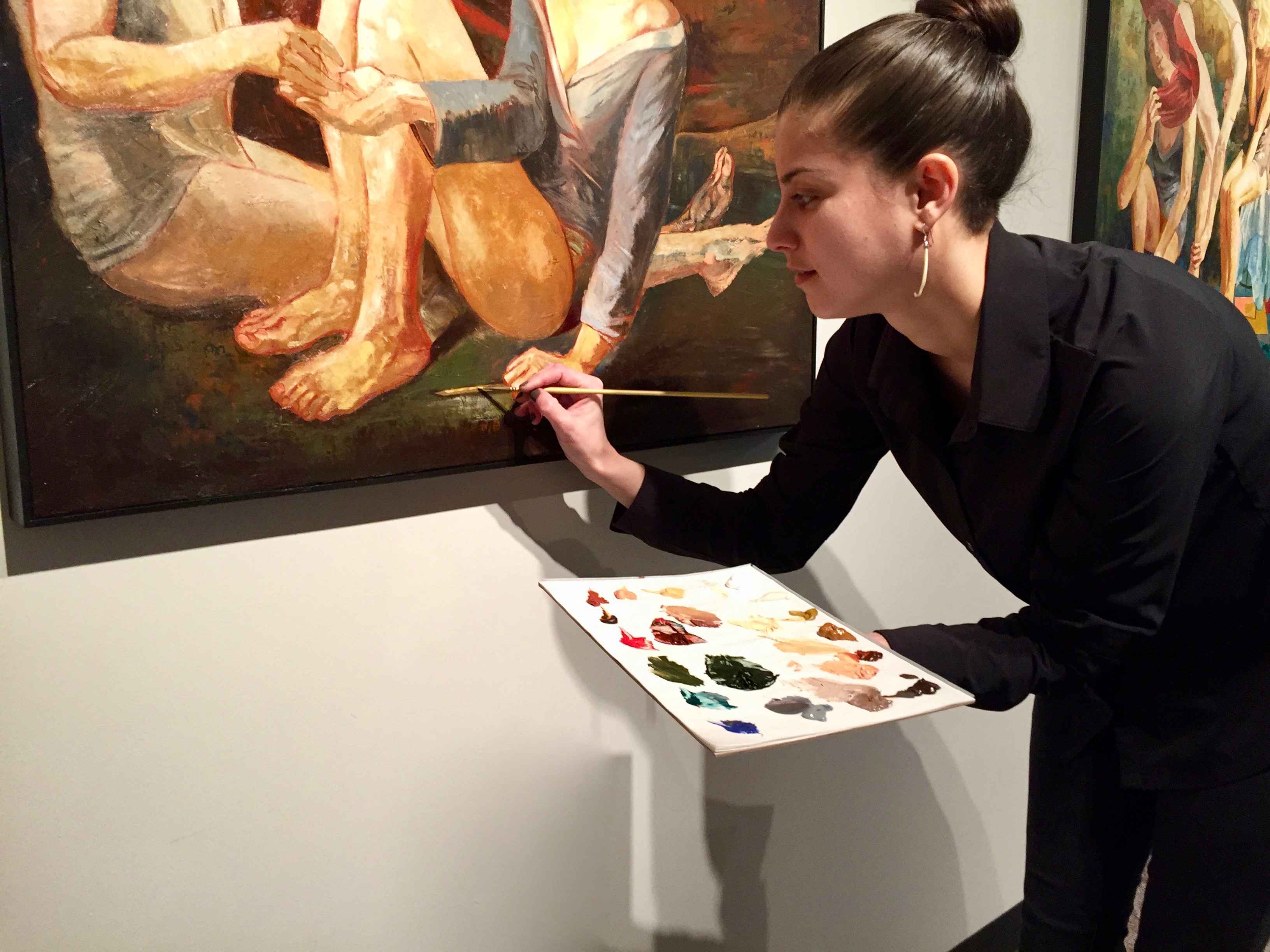 "Finding the balance between the two extremes is the hardest thing to do in life," Metra Mitchell said.
As I was walking around looking at the different paintings, Mitchell stopped at the last painting. She started explaining her inspiration for the collection. Balancing life is like balancing the amount of effort to put into a painting. If you focus too hard on it and try to control it, then it's going to turn out completely wrong, but if you don't put enough effort the painting isn't going to be up to your standards. Finding that balance is key.
Metra Mitchell is a professor at Maryville University, St. Charles Community College and St. Louis Community College. Mitchell teaches art history, drawing I, II and advanced drawing classes. When she is not teaching, she is at home in her studio painting her next piece.
In this collection, Mitchell explores character development from birth to death. She keeps the elegance of balance throughout her paintings. Mitchell's 23 art pieces took about nine months from start to finish to complete. "You could say it was kind of like my baby," she said. She had started a few of the paintings from the collection before she went on her study abroad trip for a few months. When she came back from her trip, she started and finished her favorite piece "Girls Reading" from her collection. According to Mitchell, it's the piece in her collection that she feels is the most done and didn't need any touch-ups or any changes.
This is not the only art show that has displayed Mitchell's artwork. Her pieces have also been displayed in Manifest Gallery in Cincinnati, OH, PhD Gallery in St. Louis, MO, St. Louis Artist Guild, Art St. Louis Gallery, Cinema Gallery in Urbana, IL and The Foundry Art Center in St. Charles, MO." (Metramitchell.com) She has had her artwork displayed in many different colleges across the United States. Some of the colleges include University of Alaska-Anchorage, Western Kentucky University, Northern Kentucky University, University of South Alabama and Fontbonne University. Mitchell's artwork has been displayed internationally in Lyons, France.
Grant Czapla, one of Mitchell's students, went on a study abroad trip with Mitchell to Florence, Italy. Not only did Czapla have to take a fine arts credit for his major, but he took this specific art history class because he saw Mitchell was teaching it.
"My favorite memory from the study abroad trip was when she handed Annaleise and I a watercolor that she did for our engagement. It was absolutely beautiful, and it was very kind of her to do the piece. Annaleise and I are going to cherish the piece," Grant Czapla said.
To see more of Metra Mitchell's "Character Development" Art Show go to Fontbonne University Fine Arts Gallery through March 18. Gallery hours are Monday to Thursday from 9 a.m. to 4 p.m., Friday from 9 a.m. to 6 p.m. and Saturday from 12 p.m. to 4 p.m.