---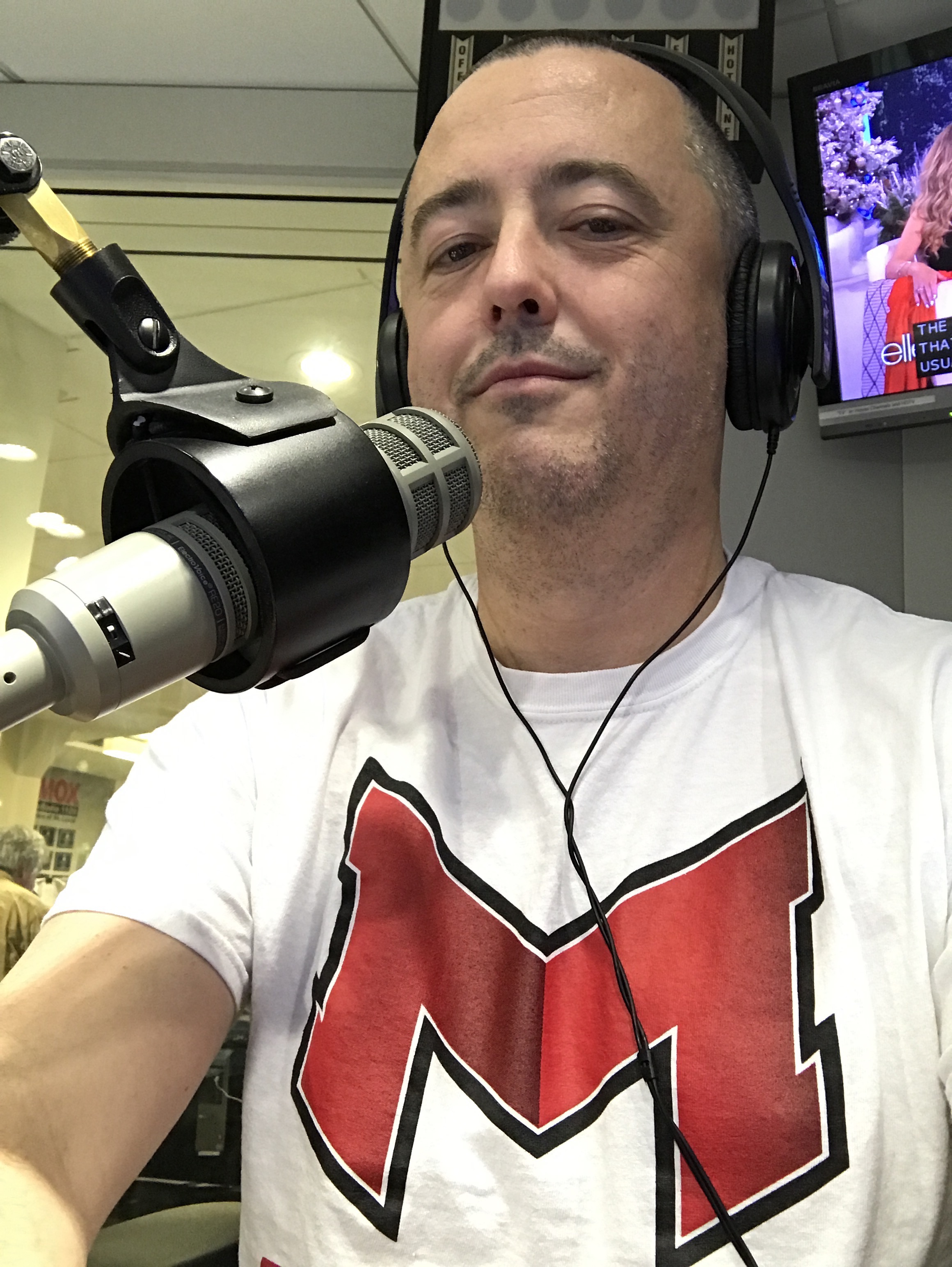 Ever wonder who manages social media for Maryville? That would be Chris Reimer. Reimer has been the associate director of new media at Maryville for the last two years.
We asked Reimer the fol­low­ing ques­tions as a part of Paw­print's take on a "What's Up Wednes­day" in­ter­view.
Follow Maryville on Snapchat, Instagram, Twitter and Facebook to see what Reimer is up to!
What are you up to?
WHAT ARE YOU EAT­ING?
I am a pizza lover, but am currently restricting my carb intake. So I'm currently eating eggs and breakfast sausage.
WHAT ARE YOU REMINISCING ABOUT?
Our family's spring break trip to the Cayman Islands.
WHAT ARE YOU LOVING?
My two daughters. Every day.
WHAT HAVE YOU BEEN UP TO?
Writing my second book.
WHAT ARE YOU DREADING?
Writing my second book.
WHAT ARE YOU WORKING ON?
New social media campaigns for Maryville… and getting in shape.
WHAT ARE YOU EXCITED ABOUT?
Matt Haig's new novel "How to Stop Time," debuting in a few months. If you've never read "The Humans" by Matt Haig, I highly recommend it. I'm not even much of a reader, but that book was incredible.
WHAT ARE YOU WATCHING?
"Agents of Shield"
WHAT ARE YOU READING?
"Leaders Eat Last" by Simon Sinek
WHAT ARE YOU LISTENING TO?
Biggie Smalls, Chris Malinchak, and the song "Beautiful Strangers" by Kevin Morby
WHAT ARE YOU WEARING?
Short sleeves again! It's spring.
WHAT ARE YOU DOING THIS WEEKEND?
Yard work.
WHAT ARE YOU LOOKING FORWARD TO NEXT MONTH?
Commencement is in May! That's my social media Super Bowl.
WHAT ELSE IS NEW?
I've lost a little weight since January 1.
Favorites
WHAT IS YOUR FAVORITE COLOR?
White (for home decorating…[it] brightens things up).
WHAT IS YOUR FAVORITE MOVIE?
"Spy" – super-foul language, but wow this movie is insane. Jason Statham is hilarious in it. The conference room scene is out of control.
WHAT IS YOUR FAVORITE DESSERT?
Tiramisu. I don't eat a whole lot of desserts.
WHAT IS YOUR FAVORITE TV SHOW?
NBA basketball
WHAT IS YOUR FAVORITE SEASON?
Summer
WHAT IS YOUR FAVORITE HOBBY?
Public Speaking
WHAT IS YOUR FAVORITE TIME OF DAY?
Morning, because coffee.
WHAT IS YOUR FAVORITE BOARD GAME?
Probably Chutes and Ladders, I'm so good at it.
How?
HOW DO YOU TAKE YOUR COFFEE?
Black and daily. No Keurig. I do a daily pour over using my Kalita Wave and coffee from great roasters like Temple, Blueprint and Verve.
HOW LONG HAVE YOU LIVED IN ST. LOUIS?
Forty-six years.
HOW DO YOU SPEND YOUR DAYS OFF?
Promoting my first book "Happywork" and playing with my kids.
HOW DO YOU ORDER PIZZA?
I like it all.
HOW WOULD YOU SPEND YOUR PERFECT DAY?
Walking around Paris.
HOW WOULD YOUR FRIENDS DESCRIBE YOU?
Hopefully briefly and without calling me names.
Would you rather…
READ ON A TABLET OR PAPERBACK?
Paperback. I like having bookshelves filled with books.
TRAVEL BY CAR OR PLANE?
Where are we going? Planes take me to really cool places.
VACATION IN ALASKA OR HAWAII?
Hawaii (but honestly, Turks and Caicos).
TRAVEL TO THE PAST OR THE FUTURE?
Future as long as someone could guarantee me that it wasn't all dystopian and dangerous.
FACEBOOK OR TWITTER?
My heart says Twitter, but you know the answer (Instagram and Snapchat).
COKE OR PEPSI?
Dr. Pepper, but I don't drink soda anymore.
LOSE YOUR SENSE OF SIGHT OR HEARING?
Meh. I'm takin' a mulligan on this one.
CHOCOLATE OR WHITE CAKE?
I don't eat cake. Like, not even if it's an office birthday party. I'm the insensitive jerk saying, "I don't want any of your cake."
MILK OR DARK CHOCOLATE?
Dark all day.
Mis­cel­la­neous
NAME THREE PEOPLE, DEAD OR ALIVE, THAT YOU WOULD LIKE TO HAVE DINNER WITH.
Anthony Bourdain, my wife and the four other members of a secret society of which I'm a member.
WHERE WOULD YOU GO TO DINNER?
Steaks, or Robust Wine Bar in Webster Groves, MO.
WHAT IS THE FARTHEST YOU HAVE BEEN FROM HOME?
Moscow, Russia.
DO YOU BAKE?
No, I'm terrible at it. I can bake a pizza.
WHAT IS ONE THING THAT NO MARYVILLE STUDENT KNOWS ABOUT YOU?
I had a gun pointed at my head in Moscow. I've also spent an hour in a Moscow jail. I was also offered a Russian wife by some weird guy on a bridge overlooking the Moscow River. Did I mention I lived in Moscow for five months?
If you missed last week's Talk About it Tuesday with Geri Dreiling, check it out here.
*Photos courtesy of Chris Reimer