---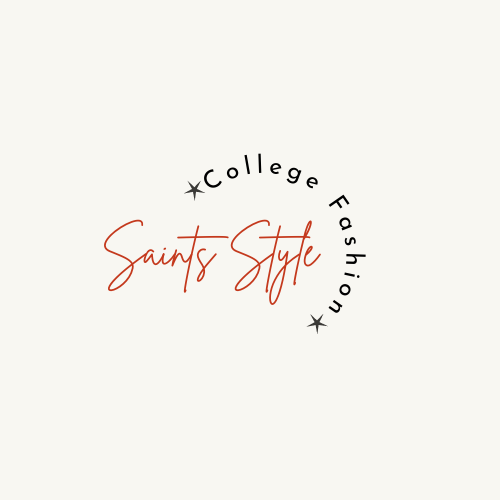 As one is scrolling through various social media platforms they can come across a lot of fashion influences. It can be hard to weed through all of the selfies, OOTD's and try-on- hauls. This week Saints Style is going to do the work for you, and comb through some of the most prevalent fashion trends that are taking and provide quick analysis.
Knitted Vests
These vests were seen throughout the fall and winter season but are surprisingly standing their ground as warmer weather rolls around. The knitted material cuts off, leaving an exposed arm that could be survivable as temperatures begin to climb. Also, it looks amazing, as can be seen in this photo of influencer Emma Chamberlain as she pairs it with a black tee-shirt underneath. It gives a classy yet simple feel to any outfit that it is paired with.
(Photo: Emma Chamberlain, @emmachamberlain)
Tights
The next trend that can be seen is paired with more formal attire. Tights have appeared left and right on social media and Ryan Destiny's profile is no exception. The classy addition can be placed under a dress or skirt and immediately elevate the look without drawing too much attention away from statement pieces of the outfit. In this case, the tights provide a darker canvas for the lighter-colored blazer to really shine.
(Photo: Ryan Destiny, @ryandestiny)
Gloves
Sticking with the formal attire theme, long and dramatic gloves are making a comeback. Gloves like the white ones worn by Sydney Sweeney are taking social media by storm. The elegant statement piece provides a unique and timeless feel to any dress. These resemble the ones worn by style icon Audrey Hepburn back when she worked on the film, Breakfast with Tiffany's. They can be seen in all types of colors and fabrics. One of the most fascinating being the black sheer gloves that provide a different spin on the classic accessory.
(Photo: Sydney Sweeney, @sydney_sweeney)
Bright Colors (In outfits and also translated into house decor)
With influencers like Victoria Paris, one can see the rise of colorful ensembles growing in popularity. For so long, people were leaning towards more neutral tones, and although those are also essential, bright colors are making a comeback. Vibrant greens, pinks, oranges, and blues can be seen across platforms such as Instagram. Victoria Paris is not one to shy away from color and it can even be seen in the decor she uses for her New York Apartment. The color combinations that would be seen as overwhelming about 5 years ago are now subject to replication in many cases. All we know is that vibrant colors are here to stay.
(Photo: Victoria Paris, @victoriaparis)
Graphic Tees
A fun trend coming back for the spring and summer is graphic tees! Specifically, graphic baby tees. Expressing yourself through your style is something influencer Devon Lee Carlson emulates in all of her looks. In this photo, she's wearing a very Y2K inspired tee with a pair of low rise jeans. The combination is the perfect mix of comfort and style. Another example of this trend can be seen in Olivia Rodrigo's most recent post. The singer is pictured at Disneyland with a 'Fairy Tales' tee and a 'I Love Fantasy' trucker hat. Playing around with fun colors and quotes can be a great way to add more personality to your everyday looks!
(Photo: Devon Lee Carlson, @devonleecarlson & Olivia Rodrigo, @oliviarodrigo)
Mini Skirts and Low-Rise Pants
Another big theme coming back for spring is mini skirts and low-rise pants! As the weather begins warming up, having a go-to pair of comfortable jeans or an easy to style skirt is essential for any occasion. In the first image, Emma Chamberlain is pictured wearing a bright yellow mini skirt on a recent vacation. The skirt is paired with a blue long sleeve that ties together this colorful look! Also pictured in a mini skirt is Devon Lee Carlson. She's definitely dressed for warmer weather, pairing the skirt with tall boots, a turtleneck, and a long coat.
(Photo: Devon Lee Carlson, @devonleecarlson & Emma Chamberlain, @emmachamberlain)
Overall, we are so excited to see what's in store for spring and summer! Social media is such a good tool for finding upcoming trends and new styles. We hope that our analysis of upcoming trends can help you find your spring wardrobe and make it easier to sort through all of the fashion info you find online!