---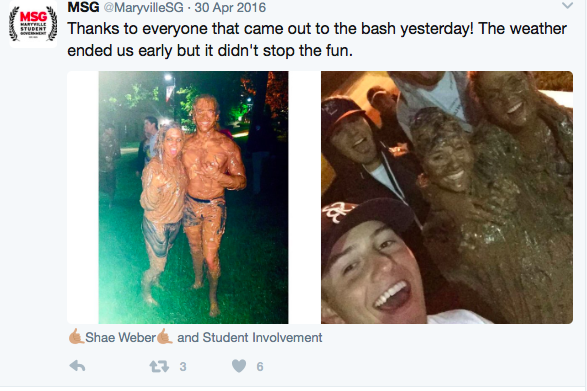 Grammys, Emmys, Golden Globes and the American Music Awards. Just like the entertainment industry has an award season, so does Maryville. Every spring, the university comes together to celebrate the accomplishments that faculty, staff and students have achieved throughout the year. Here's a list of all the awards ceremonies and bashes as well as what they're celebrating!
 
Student Life Recognition Banquet
Status: Invite-Only
This is a banquet where faculty, staff and representatives from each of the 100 student organizations come together to recognize the work of students across campus. Many awards are given throughout this fun-filled evening. Everyone is dressed in their best as they celebrate the accomplishments from many students.
When asked about what she was most excited about for the banquet, Sara Parrott, life coach and adviser to the International Student Association said, "I am excited to actually see in person names that I have been hearing about all year…Students from other organizations that are stars and seeing them get recognized and I might not have met them yet, so putting a face to the names of the outstanding students."
 
Status: Open to Public
On April 7, the International Student Association will host their second-annual banquet, themed Royalty in America in the Donius University Center at 5:30 p.m. Students all over campus are welcome to eat an international dinner and participate in an awards ceremony. This event is strictly cocktail attire or traditional wear, so come in your best dressed. The organization is currently accepting votes for their awards show here.
 
The Golden Louies
Status: Open to Public
On April 13, Maryville's student newspaper, Pawprint, hosts the Golden Louies. This is an award ceremony that has gone years back and includes various categories such as most caffeinated and most involved. This years awards show is sure to be fantastic. Come find out who wins the awards in the DUC at 5 p,m. Dress code for this event is business casual.
 
The Espys: Student Athlete Awards
Status: Invite only
The Espys will be April 20 in the auditorium, which is where graduating senior athletes and current athletes are recognized for their athletic efforts during this school year. Though typically a private event, anyone may enter, if they are dressed in proper cocktail attire. Come support some of your favorite athletes as they are awarded for their athletic achievements. There is typically a cocktail hour hosted after the event.
 
Maryville Student Government Bash
Status: Open to the Public
Every year Maryville Student Government has an end of year party that includes a barbecue and a fantastic music playlist. While the event has typically been hosted by student government, this year it will be hosted by CONNECT. Students are encouraged to come release some pre-final stress with a little mud wrestling, too. Another perk of this bash is that everyone attending usually receives a free t-shirt. This year the Bash starts at 8 p.m. on the Commencement Lawn! Dress code is casual.
Tweet us @MvillePawprint and let us know which award ceremony you're more excited for!