---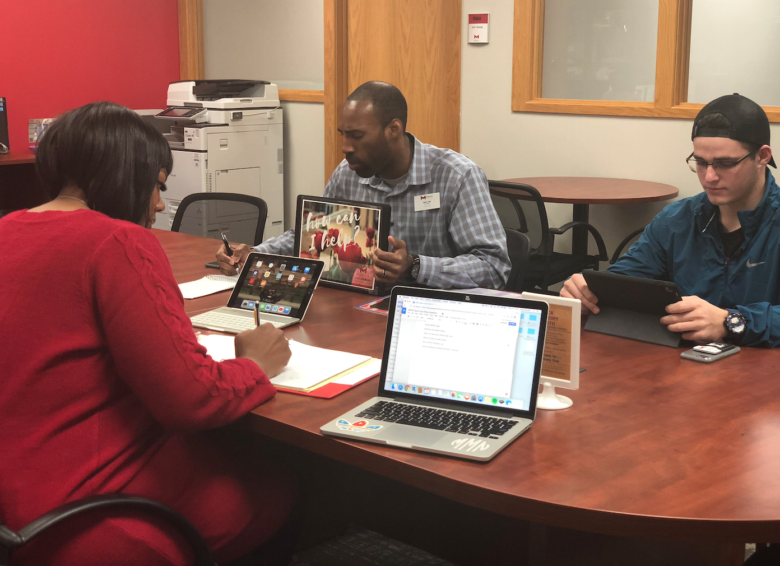 In order to keep students interested and actively involved in their community, Project Serve was an initiative Student Success started years ago to coincide with the Maryville Reaches Out program every fall. This year, Life Coaches Kelly Atkins and Oge Oge take on Project Serve St. Louis alongside student participants in order to give back to the homeless population of St. Louis. To them, there is a deeper meaning behind the importance of the project and its main goal.
What is the main goal of SERVE St. Louis?
"The main goal of Project Serve St. Louis is for students to have an understanding and appreciation of different groups that are disenfranchised and may not have the necessities that they need," said Atkins. "It gives students a chance to not only collect and serve this population but to understand the need that's in St. Louis and the lack of resources that they have."
Why is SERVE important to you?
"I feel like we all have a duty to help uplift someone who might be in a lesser position per say because you never know what that person might've gone through in life," said Oge. "Sometimes situations and circumstances happen, and it could be something that's not directly their fault. Project Serve means for students to be able to put a face and cause to what it means to try to uplift those who are less fortunate."
What and how can students donate?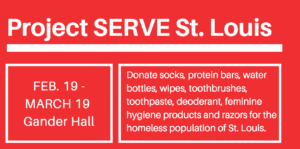 "Students can donate socks, protein bars, water bottles, wipes, toothbrushes, toothpaste, deodorant, feminine hygiene products and razors. Collection tables will be set up in the back of Gander Hall from Feb. 19 through March 19," said Atkins.
What does a typical day of distributing the items look like?
"Last year, we collected all the items and trailed each other downtown to a collection place. This year is our first time beating the street and distributing, which is what makes this year the most exciting. We can finally go out and bring happiness and comfort to the homeless population this year," said Atkins. "So, we don't know what a typical day of distributing looks like yet, but that's the exciting part of it. I'm thinking we'll just get out there and share our joy and kindness and our desire to help them."
How can students get involved with SERVE in the future?
"Every year, the division of student success has the campaign in which students are divided into each serve project. Each life coach is in charge of creating a serve project, and there is a kick off that students can come to to get more information and sign up for it as well,' said Atkins.
To Mike Lippincott, a first-year student and Project Serve St. Louis member, the project stands out amongst other volunteer opportunities. "I really like the idea of Project Serve because it's a semester-long commitment of volunteering as compared to other volunteer opportunities that last a couple of hours. I really enjoy working with the same team throughout the semester too. It's fun knowing who I'm volunteering with for the duration of the project," said Lippincott.
Collection tables for donation items will be in the back of Gander Hall from Feb. 19 through March 19. Make sure to stop by and donate in order to make a difference in the lives of the homeless population of St. Louis.