---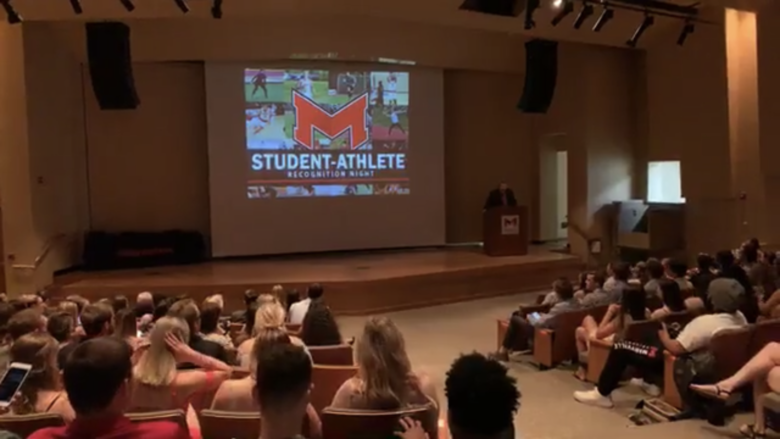 Maryville University hosted its annual Student Athlete Recognition Night this past Thursday. The event honors all student athletes at Maryville, and highlights teams and individuals who had extraordinary accomplishments throughout the year.





The night began with a speech from Maryville alumni Nate Rodriguez. Rodriguez was the 2017 national champion in Division II wrestling. Rodriguez is the only athlete from Maryville to win a national championship. "I am honored to be part of a school that gives students the recognition they deserve," said Rodriguez at the podium.





Following Rodriguez's speech was the announcement of the 2019 Saints Cup winner. Saints Cup is an annual competition between all of Maryville's athletic teams. It is a point based competition with the points being determined by academic excellence, athletic excellence, community outreach, professional development, supporting other teams and organizations, and SAAC meeting participation. Women's Soccer won the competition this year.





Next up was senior Allison Verville. Verville talked about her experience as a student athlete at Maryville. Following her speech, Jim Powers came to the stage to present Allison with a special award. Verville was named to the CoSIDA Academic All-American Women's Soccer team. This is an extremely prestigious award. Allison achieved this award by maintaining a 4.0 GPA throughout her time at Maryville. Athletic Director Lonnie Folks presented her the award. 





Next, a slideshow was played featuring every senior student athlete. Maryville's "One Team, One Family" mentality was certainly in effect here as applause was given for every athlete shown. Following the conclusion of the slideshow, each team presented their seniors with a plaque recognizing their time at the University. 





Nicole Pafundi of Women's Tennis and Christian Kjaersgaard were named Maryville University Student Athletes of the Year. 





Senior Brock Kasten said, "I think this night is great to recognize the accomplishments of all student athletes, along with those who go the extra mile. It was great receiving support from my fellow student athletes tonight as well."





To watch the entire Student Athlete Recognition Night visit Maryville Saints' 

Facebook.