---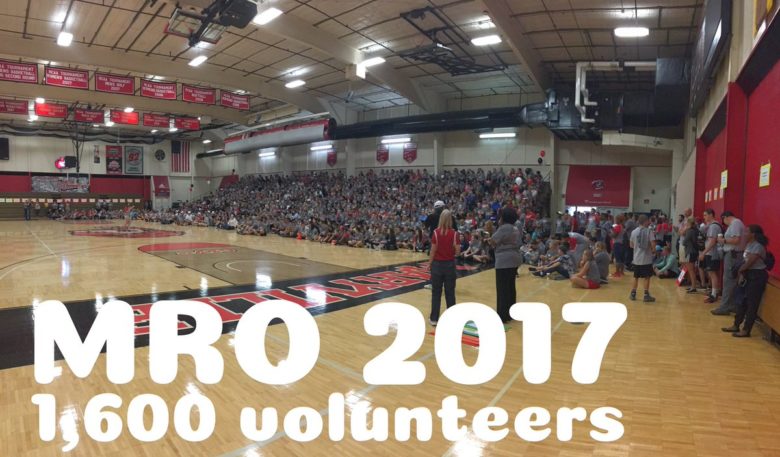 With over 1,600 volunteers and over 100 organizations, #MRO17 was the largest to date.
Maryville Reaches Out, also known as MRO, is an annual event, a day when all students, faculty, staff and alumni are encouraged to share their time and talent in community services.
"We look at MRO as building community outside of Maryville, but also build inside of our own community," states Dean of Students Kathy Quinn. "It is an opportunity to build and strengthen relationships; to strengthen with people you know or have known and enhancing that 'One Team, One Family.'"
Below are three interviews with MRO team leaders discussing their #MRO17 projects and experiences.
Andrea Fandino, senior strategic communication major
Project: House Rabbit Society of Missouri
About the Project: Missouri House Rabbit Society (HRSMO) is a national nonprofit organization that is known for volunteers providing appropriate care and socialization opportunities to rabbits so they may be adopted into loving, permanent and indoor homes.
Tell me about your experience.
"We started off by cleaning the cages, changing their stool box with new food and water. Then, we divided into teams that swept, put food back in order and cleaned windows. We stayed until 2:30 p.m. We did not stop for lunch because we wanted to keep participating and get done as much as we could for the organization. We all collaborated as a team and at the end of the project, we could see the difference from when we started."
How were the rabbits?
"They [rabbits] were super cute. However, there were some that we could not touch because they would bite. Most of the rabbits are either rescued or come from more aggressive backgrounds which made them not like certain things. Most rabbits had bios next to cages that said 'I bite.'"
What did you get out of your experience?
"Sometimes we are not aware of the different organizations that are trying to people, animals, or the environment. There are so many smaller organizations like this [HRSMO] that are putting a lot of effort into making a difference which is so amazing because they do not have much support nor as many people like bigger organizations."
Kirby Cooper, sophomore history major
Project: LaSalle Middle School
About the Organization: LaSalle Middle School is a public charter school located in North St. Louis that is committed to transforming children and the community through innovative education.
How was your time being a leader?
"I really enjoyed my time as a leader because I liked the responsibility. It got me to break out of my shell a bit. I'm naturally a quiet person, however this forced me to reach out to complete strangers, including students and staff."
What did you get out of your experience?
"Even though the work was tough and the kids were really energized, I really enjoyed spending the day at the middle school because some of the students are not in the best living situations. I felt empowered just being able to spend some time with them."
Krista Koors, senior cyber security major
Project: Society of St. Vincent DePaul
About the Organization: Society of St. Vincent de Paul are men and women who strive to grow spiritually by offering person-to-person service to individuals in need.
Why did you decide to become an MRO leader?
"I have always been passionate about leadership positions. I've held a leadership position on campus since my first month of being a freshman. I love organizing and having to not report to people. Having the freedom to organize things and being a perfectionist, I have the authority to say, 'I want it this way.' Also, someone has to do it so I wanted to step up and be that person."
Tell me about your interests in the organization.
"I've shopped at the St. Vincent DePaul thrift store. I like going there because they have a combination of nice people that work there and sales go towards causes. Also, it's cool to see what all they bring in and there are some valuable things that people bring in knowing that it will benefit someone else."
Let us know your favorite experience/memory from MRO in the comments below!