---
Maryville is home to many students who transfer from local community colleges, but it also educates many who are from outside of Missouri and Illinois. Sydney Dark, a junior at Maryville University, talked to me about what it was like transferring to Maryville from Kentucky.
Amelia: What made you transfer schools? Why did you choose Maryville?
Sydney: I was in a rural small school in Kentucky, and it just really wasn't for me. I went there with the intention of transferring when I got the grades to do so. And I chose Maryville because it's across the street from my house and I like that the classroom size and campus size is more personal. Plus, I could go about my normal life and job and everything while popping in and out of campus for classes super easily.
Amelia: I can imagine transfering was a big change. What are you most excited about now that you're at Maryville, or what do you like the most about Maryville?
Sydney: I'm most excited about how student focused it is. Maryville actually cares about people and wants you to graduate, you're not just a number. I also just like that everyone kind of does their own thing. And the sports!
Amelia: I agree! Coming all the way from a school in Kentucky must've been hard though. What did you find easy about the process of transferring to Maryville? Were there any advisors or staff at Maryville that made the transition easier?
Sydney: The Life Coaches made all the difference. They were so accessible and helpful! I'm someone who is not a focused person and having constant reminders of deadlines and everything made the transition super easy, so I didn't miss anything. Something that was difficult at first was technically being okay with being behind in school for my age, but again the community is perfect for whatever age I've found. And none of my questions went unanswered.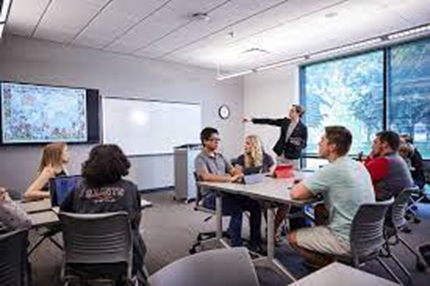 Amelia: That's great that you had such a connection with your Life Coach! Did you enjoy orientation? If so, what did you like? If not, what would you change?
Sydney: I'm not going to lie, I didn't attend orientation because I was out of town until the day before classes. But I had people from my high school and my Life Coach who helped so much. I don't know what I missed, but I figured it all out with help at some point.
Amelia: I felt the same. For me, I still had stuff after orientation that I had to figure out on my own. What is one thing you like about Maryville?
Sydney: Biggest thing I like is the size for sure. For the most part everyone is a familiar face. And the classes are very high school and familiar in a good way
Amelia: That's very true. How would you describe your transfer process overall?
Sydney: Legit the easiest thing I ever did was transferring to Maryville is how I would describe it. One other thing I'd say is that Maryville did only accept half of my credits from my original college…but that's my fault for not getting above a 'C' so I can't be too mad, it just set me back a little.
Amelia: I'm so glad you had such a great experience! Do you have any advice for Maryville transfer students, or students thinking of transferring?
Sydney: My advice would be if you're looking for like a party college experience or like a real college town, Maryville may not be for you. But if you're looking to just go about your day-to-day with more relaxed energy, I couldn't recommend transferring to Maryville enough.
Amelia: Thank you so much for taking the time to talk with me!
Sydney: Of course!
It's awesome to me that Sydney had such a positive experience transferring to Maryville! I'm so glad she found a school that works so well for her. If you ever have any questions or concerns, please reach out to Maryville staff and Life Coaches for guidance. Thank you, Saints!