Staff
---
Editor-In-Chief
Ma­cie Maislin is a sophomore at Maryville study­ing com­mu­ni­ca­tion. In her spare time, you can find her cud­dling her three dogs, hang­ing out with friends or binge-watch­ing shows on Net­flix.
Social Media editor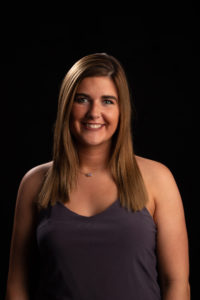 Kara Fialka is a junior at Maryville studying Strategic Communications. In her spare time you can find her, working out, shopping or, trying to keep up with the Kardashian's.
Copy Editor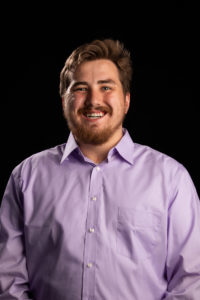 Eric Cowan is a second-year actuarial science student from Springfield, MO. In his free time, he enjoys reading, hammocking and solving other people's problems. If you see him around campus, be sure to say "Hi!".
Digital Media Editors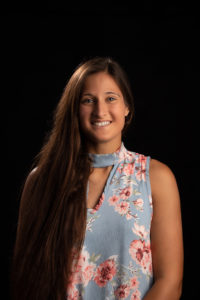 Hope Miller is a fifth year Education & English major. She plays outfield on the Maryville Softball team and is president of Fellowship of Christian Athletes. In her free time, she loves playing with her cat, Moo Moo, and watching Disney movies.
saints talk hOSTS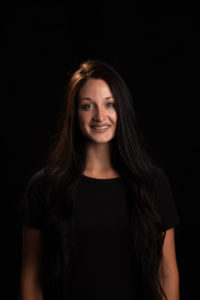 Emmy Naes is in her final year at Maryville University and will graduate in May of 2019 with a bachelor's degree in English and communications. In her free time she enjoys hiking, traveling, taking photos, and helping raise her triplet niece and nephews. She is a baseball enthusiast and one day hopes to land her dream job as a MLB field analyst.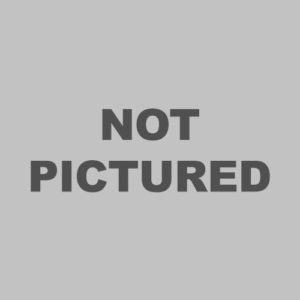 Matt Pratt is a fourth year Communications major and a member of Maryville's wrestling team. Pratt will also be the co-host of Saints talk this year. OOST!
Writers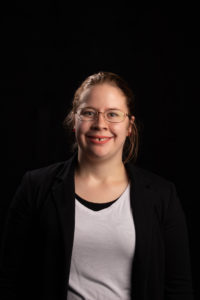 Sarah Henkel is a fourth year History and Creative Writing student. When she's not filling out grad school applications, you can find her visiting museums and spending quality time with her 8-year-old German Shepherd.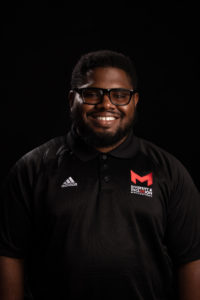 Austin Davis is a fourth year communications major with a focus on strategic communications. During his free time, he likes listening to music, watching and playing basketball and hanging out with his friends. Also, he believes Incredibles 2 was a great follow up to the greatest movie of all time, the Incredibles.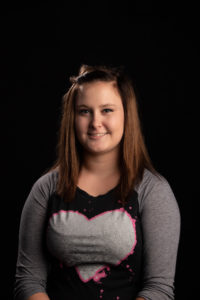 Cassidy Wilhelm is a freshman at Maryville and is currently working on majoring in biology in hopes of becoming a Veterinarian. Wilhelm hopes to someday own a Vet clinic as well as a pet shelter. She has a great passion for nature and animals. In her free time, you can find her hanging out with friends, being silly, reading or being active around campus.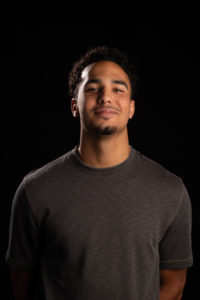 Forrester Sims is a Strategic Communication major at Maryville University. Sims enjoys art and anything sports.
Curly headed saints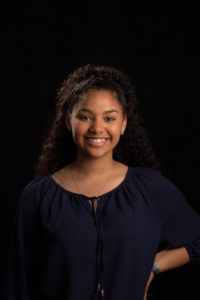 Tiana Bowman is a second year English and Communication major. She is a multicultural scholar and you can catch her binge watching shows on Netflix and enjoying an iced chai tea latte in her free time. Make sure you watch her and her roommate's YouTube channel for Pawprint this semester!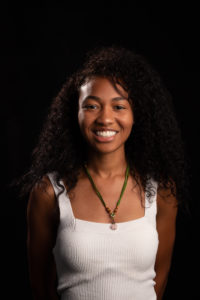 China-fumi Page is a sophomore at Maryville studying communications minoring in Spanish and marketing. She enjoys traveling to different countries. Her goal is to become a retail buyer for a company such as Saks. Her hobbies include modeling, playing taiko, arting and shopping.