More than an Internship
---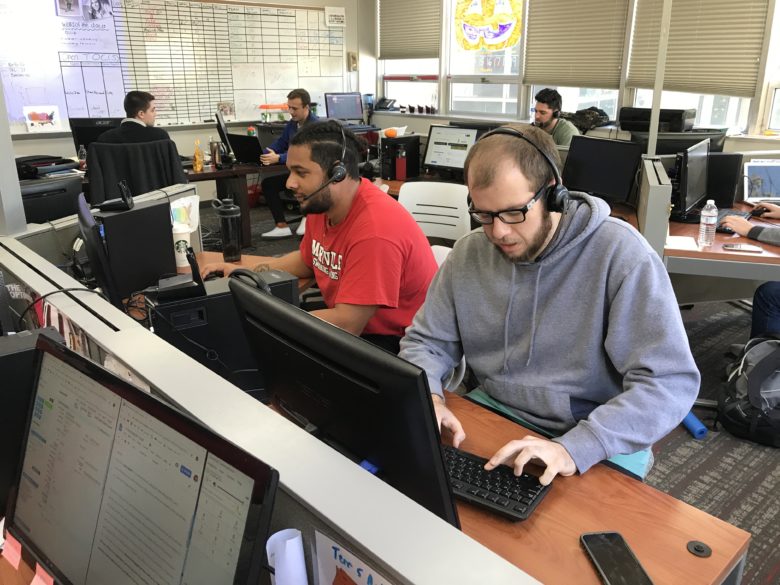 Abstrakt Marketing Group is a St. Louis-based, b2b lead generation company that offers inbound and outbound lead generation, as well as creative services. Around three years ago, an on-campus internship branch of Abstrakt was introduced at Maryville University. Since then, it has provided interns with the skills necessary to thrive in the professional world. 
 Interns at Abstrakt gain valuable sales experience while working with Salesforce, the largest and most widely-used customer relationship management system in the United States. 
Maryville Alum, Bryant Webster, was one of the first interns hired on at the Maryville branch. Since then, Webster has been able to move up within the company and now serves as the Partner Performance Manager of Campus Sales.  
"I was hired on in the first hiring class. It was more so getting things implemented and learning how to run an internship with Abstrakt and how to maintain a good relationship between the downtown office and this office. There wasn't a ton of success honestly, but we really turned things around," Webster said.  
With a little bit of a rocky start, things turned around tremendously for the internship, as they are now doubling their production that they once had in the beginning. 
"When we first started, we had about 12 people and our two original bosses thrown into the mix. We started out getting two appointments a day but our goal was four. Its changed a ton because now we are getting 13 or more a day, with our month goal of 300," Webster said. 
The internship with Abstrakt has allowed Webster to grow within the company, both personally and professionally. 
"Personally I've learned about the ability I have in sales, but also a lot about cold calling and having conversations over the phone with every type of person. I've learned the path I want to take as far as business, sales and marketing goes. It got me to where I am financially as well as professionally. The internship has put a lot on my resume; I get to show how I have helped a company grow in revenue." Webster said. 
The personal relationships developed with clients and growth from within has allowed for the company to expand at a rapid rate. 
 "As a company, it is very people-centric and culture based. They like to promote from within and get people where they need to go. It is a very fast-paced company and its growing rapidly as well. When I first started, there was less than 100 employees and now there's around 270 team members," Webster said. 
Director of Maryville Partner Sales, Amie Milner, has been with Abstrakt for a little over three years and has held many different positions within the company before obtaining her current title. 
"I have been with Abstrakt for almost four years. At first I was hired on as a Partner Sales Representative (PSR) and I was on the phone for 9 months setting appointments for clients. As time went on, I ended up interviewing for a trainer position in the company and also interviewed for Partner Sales Manager (PSM). I had no management experience whatsoever, but I was fortunate to have managers who had poured into me and believed that I could do it. Eric Watkins really believed in me and I was one of the first PSM's he hired when he moved up to Director of Partner Sales," Milner said. "I was a PSM for a year and a half until I moved up to Senior Partner Sales Manager. I loved that position because it really taught me resilience and how to face tough situations. That position really transformed my personality and instilled confidence in me as I worked alongside my partners to help them sell and grow their business!"   
Throughout her time at Abstrakt, Milner grew quickly within the company. When she was asked to direct the Maryville internship, she was unsure of what to expect.  
"I started at Maryville in August of 2017 after I returned from my maternity leave. I went from a Pipeline and Account Management position to the Sales department so it was a total switch in gears," Milner said.   
Using her background in higher education, Milner came to Maryville focused on production, activity and team expectations. Milner found a good balance between building relationships with her staff and earning their trust, but also being able to manage and hold them to her expectations.  
"My biggest accomplishment here at Maryville is getting the production and the activity to what it is right now. My biggest weakness as a PSM was managing expectations of activity and when I joined the Sales department, I knew that's what I personally needed to improve on to help my new team see success. My manger, John Schwepker the Vice President of Sales really pushed me to meet these expectations and helped me become completely independent in this position. I came in very strong at the beginning and former interns Bryant Webster, DJ Westcott, Adam Zobrist and Brian Dietrich can probably attest to this; they did not like me at first. But, I quickly connected with them on a personal level and once they were bought into the mission of making Maryville explode, we were on our way." Milner said. 
Milner says the internship with Abstrakt allows students to gain confidence in their work while also allowing them to gain skills beneficial to any work environment. 
"The internship gives them real world experience in communication. It teaches you resilience in tough situations and how to overcome objections, while also being able to persuade someone to come to their side of the table and convince them that what you're doing is of value to them and will produce results," Milner said. 
The internship on Maryville's campus is unique because it models the same process that Abstrakt sells and performs for their partners. The interns cold call to business owners in a variety of commercial niches and set up appointments for their regional managers at the downtown office to pitch them on Abstrakt and become new clients of Abstrakt. The internship just recently hit over 3 million dollars in yearly recurring revenue that all came to fruition because of appointments set within the internship.  
If you're looking for real world experience in the business, marketing and sales world then reach out to Amie Milner at 314-338-2195 to interview for the internship!